Skip to Content
Frequent Buyers Programs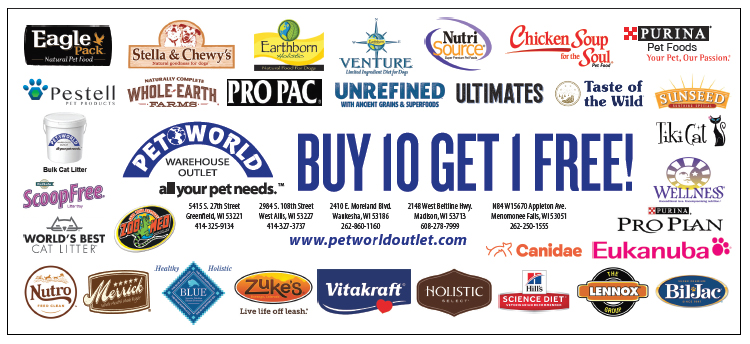 Save your original Pet World receipts with the qualifying items listed of the same brand. (May not mix and match brands). After you have purchased the required amount, bring those original receipts to any Pet World and get your free item.
Free item will be of equal value and the same brand of the smallest size purchased from the qualifying receipts.
BUY 10 GET 1 FREE!
Dog and Cat Food
















Small Animal Food, Treats and Shavings/Bedding
Pine, Aspen, Cedar, BOXO paper, corn cob, and recycled newspaper. Bulk food is not included.



Reptile Substrates
Eco Earth, Forest Floor, Reptisand, Repti Bark, ReptiSoil & Aspen Snake Bedding.


BUY 5 GET 1 FREE!
Buy 5 bottles of Pets Strong CBD hemp oil get 1 free!

BUY 6 GET 1 FREE!
Buy 6 bags of Oxbow small animal food and get 1 bag free!
(Excludes 15lb, 20lb, & 25lb).
Buy 6 bags of Oxbow hay get 1 free!
(Excludes 9lb, 25lb, and 50lb).